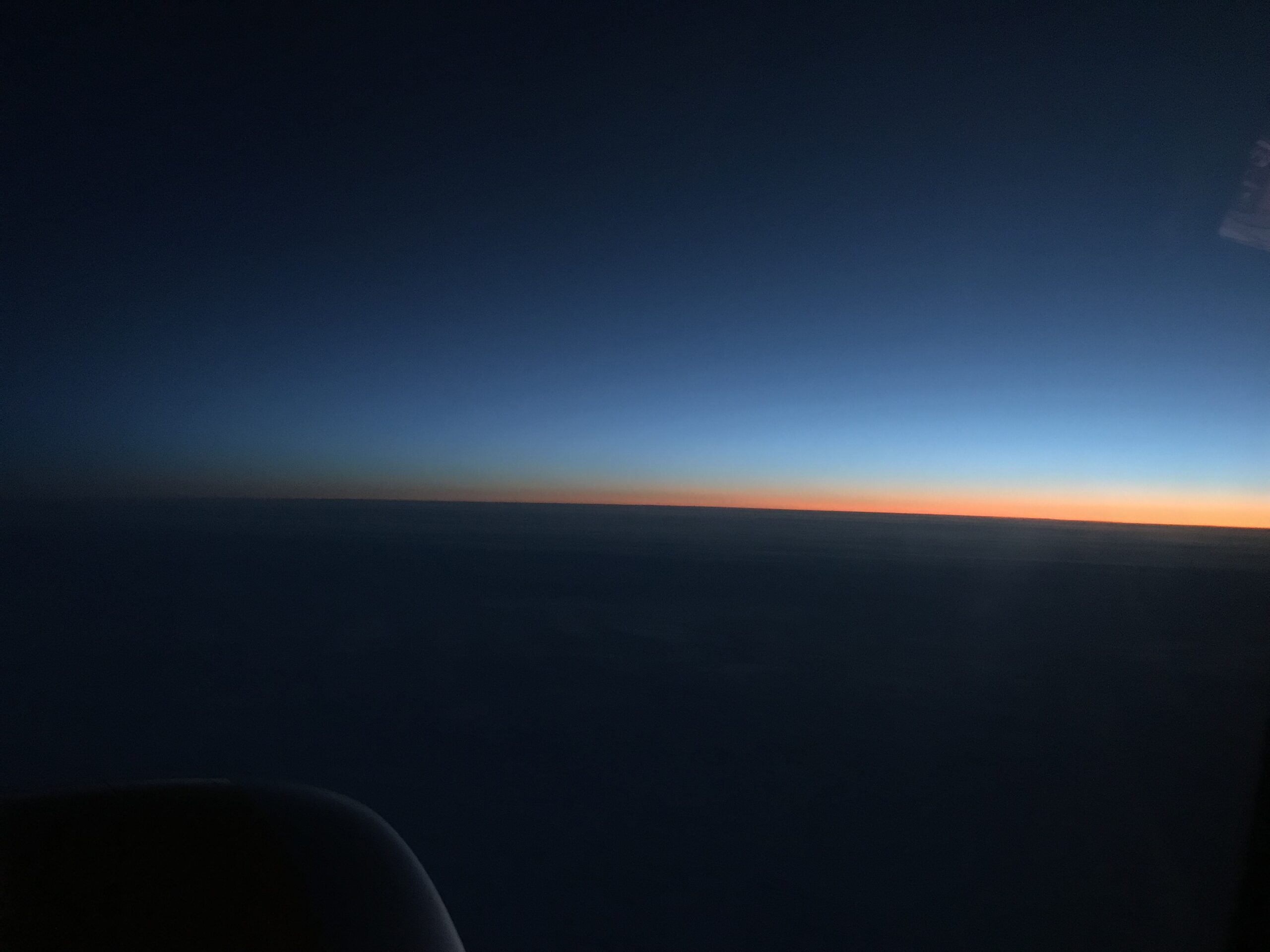 It's always a little melancholic to get to the end of a year: time is passing so quickly, but it's also a little liberating to see what has been done in the past 12 months, too. So in the spirit of looking back before I look forward, I have opted to assess 2019 from this series of questions I found from a friend on Facebook. We talked through a number of them at supper last night and had a great conversation; I invite you to consider doing the same, either by yourself of with some close friends or family.
What makes this year unforgettable?
Travel:
Three trips to England plus a three-day stopover in Iceland, one to celebrate Christmas and New Year's with our family, one with my dear friend Ellen to meet Mary Berry and one for Dr Marry to attend a conference in Cambridge and to introduce my mother and her person Bob to locations I love
Three trips to Los Angeles, one to attend the School of Life conference with Quinn, one to show Dr Marry Quinn's new life and one to take my mother to hear Quinn's orchestra concert
One trip to Washington, DC for Arts Advocacy Day with Americans for the Arts–this trip turned out to be extremely important
One trip to Chicago for Artists Campaign School
Speaking and Writing:
I launched my website, blog and podcast, extraordinary. I have thought about doing this for a number of years, but it was thanks to an invitation from Laura and Danyel of Ladyboss to speak at their annual summit that finally prompted me to get this out of my mind and into the blogosphere. One of the great blessings, besides the fact that it has absolutely been a form of therapy for me, is that I have reconnected with people from all of the stages of my life because something I wrote resonated with them. I am grateful for the renewed connections. I'm also proud to say that this is my 42nd blog post in the past six months. I have made a commitment to this work, and I have enjoyed all of it.
I gave the commencement address at MSUM in December, a true thrill for me
I keynoted two regional conferences as well as all the talking/presenting I did on behalf of The Arts Partnership
What did you enjoy doing this year?
Enjoying our little Fargo life:
Saturday bike rides in the summer with Dr Marry to the Farmer's Market, downtown and around the Metro
Sitting on my back yard swing with a cup of Assam tea watching the bees and butterflies flit around my newly planted wildflower garden
Evening walks with Dr Marry and our pup Lilly through the neighborhood
Going to spin 121 times with Dr Marry; not too bad considering all the travel we did and the three times I was out for two weeks each because I was sick
Dinner parties and socials in our back yard, both for work and personally
All the reading
Spending time with all our family in various places
See Travel above
See Speaking and Writing above
I have started attending breakfasts put on by Pollen in the Twin Cities. I love them because I discovered I crave bigger interactions than I can often have here. That's not to dismiss the excellent conversations and friends I have in the Metro, but I need professional challenges that come with more diverse audiences and ways of thinking than we provide here currently. I have taken great satisfaction in the learning, the networking and what I have been able to bring back because of it. It's well worth the drive for the experience, and I get to connect with friends and family when I'm there.
What/who is the one thing/person you're grateful for?
There's no way to just chose one person; I am fortunate to have a number of people who are of intense importance in my life, and I believe they know who they are.
I am most grateful for this year is my ability to communicate in a way that is feeding my need to explore and create as well as various needs for other people. That feels like a real gift, and it has helped me see myself as an artist again, for which I am truly grateful.
What did you read/watch/listen to that made the most impact this year?
I consider myself fortunate because not only do I love to read, but I do it pretty fast, so I read a lot of books this year, all of which offered me at least one nugget of valuable information/something to ponder/a light bulb moment. Here's a list of many of them:
Linchpin by Seth Godin
The War of Art by Steven Pressfield
The Art of Possibility by Rosamund and Benjamin Zander
Footprints on the Moon by Seth Godin
Steal Like an Artist by Austin Kleon
The Coaching Habit Say Less, Ask More and Change the Way You Lead Forever by Michael Bungay Stanier
Thanks for the Feedback by Douglas Stone and Sheila Heen
Like She Owns the Place by Cara Alwill Leyba
The Top 1% by Dan Strutzel
Pause by Rachael O'Meara
Women, Work and the Art of Savoir Faire by Mireille Guilliano
On Being 40(ish) edited by Lindsey Mead
Creative Construction The DNA of Sustained Innovation by Gary P. Pisano
Be Fearless by Jean Case
How to Get Sh*t Done by Erin Falconer
The Emotionally Intelligent Office by The School of Life
Becoming by Michelle Obama
All the books I reread like Essentialism by Greg MeKeown, You Are a Badass by Jen Sincero, Big Magic by Elizabeth Gilbert, Persuasion by Jane Austen and more
What was your biggest regret and why?
My biggest regret by far and away is that I wasn't awarded the Bush Fellowship and that TAP didn't receive the Bush Innovation Prize grant. Losing out by a hair to both of those opportunities in one calendar year will forever be a tough pill to swallow.
What's one thing that changed about yourself?
One area that seems to be suffering in the midst of all this growth and success is my "shallow" health. I say shallow because I don't have anything seriously wrong with me, but I was quite sick in June and August and under the weather in October and right now. My mother will say it's because I don't get enough sleep, which is not at all true. It's a rare night that I am up past 9pm, but it's also a rare night that I sleep through the entire night; it's very hard for me to shut off my brain.
One perk to the sicknesses, however, is that I fulfilled Emily Blunt's character's dictum from The Devil Wears Prada when she says, "I'm one stomach flu away from my goal weight." I've reached the weight I feared I might never see again, and instead of it coming right back on when I felt better, I have successfully kept it off for the past six months.
I am eternally grateful to be able to comfortably fit back into all of my clothes, and all the spin classes as well as eating far fewer carbohydrates has been totally worth it.
What surprised you the most this year?
What surprised me most is that the more I take on, the larger and more full my plate becomes, the more and better I seem able to manage it (although my sinuses might tell you differently). All of this personal discovery, writing and travel has been in addition to the fact that The Arts Partnership has also had a phenomenal year of growth, expansion and influence in the Metro. If my own exploration is my oxygen mask, then the more I breathe in to that, the more equipped I am to also lead TAP and the team. And all of this has come, I believe, without sacrificing my relationship with Dr Marry, Quinn or the other important people in my life. I feel full in the truly best sense of the word: full and blessed and wanting more.
If you could go back to last January 1, what suggestions would you give your past self?
Hold on…and enjoy. Your boy is truly launched and is doing better than you (or I think he) could possibly have imagined. Your marriage continues to be joyful. Your job is soaring and you are making a difference. Your passion is finding new avenues and making new waves. You will survive the disappointments even if you don't understand them. You are only getting better.
Watching the sun rise between England and Iceland in the early morning hours of January 2, 2019.